Manzanillo to Mazatlan

Winter 2012 & 2013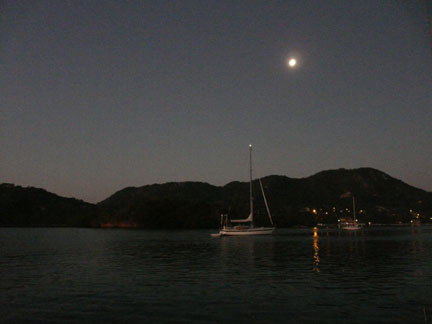 Moonset in Barra de Navidad
This was a period of many changes, of well-made plans flying off in the wind, a time of new possibilities, and more than a little sadness.

Our first month in Mexico found MaryJo and I living anchored in front of the Las Hadas resort in Manzanillo. Itís a great anchorage, and we had full access to the world-class resort for the fee we paid to use the dinghy dock in the marina. We spent the time lounging around the pool, making a trip to Guadalajara, exploring Manzanillo, and catching some cultural events.
| | | | |
| --- | --- | --- | --- |
| Walking the beach | Learning some woodworking | Goofing around | More goofing . . . Yes, without a harness! |
| Water aerobics at the resort | Boys choir Christmas performance | The boat was all decorated for Christmas | Christmas party |
I had invested heavily in having a crewmember that would join the boat for the time in Mexico and the two year passage to New Zealand. The decision was based on my medical situation, which left me more than ever anxious to spend my days cruising. The belief that finding a romance with a sailing buddy was not going to happen in a timely manner left me looking for a crewmember that would enjoy learning the ropes and sharing the adventure.

When MaryJo joined the boat I was convinced I had found my fellow sailor. Unlike my previous two cruising partners, there was never a sense of a romance; she was like a daughter and apprentice to me. She spent five months in San Diego learning about the boat and lifestyle; she enjoyed the long passage to Mexico, and seemed to love the cruising life. We shared many good times. There was also a feeling of tension that I thought was easing, but eventually it led to her departure. When she decided to leave the boat just after Christmas I was disappointed and had to reassess my situation. I wish her well, but will always wonder what might have been if we had built better communication. My investment in plans, time and money all seem wasted. The experience left me feeling terribly used. The next time I sign on long term crew I will look for someone who matches me more in personality, maturity and level of commitment.
---
A young lady, who wanted to get her feet wet and find out if she would enjoy sailing soon found me. Tulia only spent a couple weeks on the boat, but they were important to me. She helped me move from Barra de Navidad to Puerto Vallarta. We had none of the sense of tension that had existed with MaryJo. Tulia and I enjoyed each otherís company, and will always remain friends. We had some great times snorkeling some of the best spots in the Costalegre area of Mexicoís Pacific coast. Tulia proved to be a great sailor in all kinds of conditions and has gone on to cross the Pacific this spring.
| | | | |
| --- | --- | --- | --- |
| A world traveler, Tulia finds room in her pack for a nice camera and her special chili | We swam ashore to enjoy lunch at a palapa | Learning skills to take her across the Pacific this summer | First time someone has spent more time in the galley than me |
| A beautiful anchorage called Paradise | Snorkeling with Spotted Box Fish | Photoghaphing the hermit crabs | Reefing down to round Cabo Corientes |
When I arrived in Puerto Vallarta it was with the intention of having some fun times, and for new crew to be joining the boat. The fun did happen the crew did not. I learned the lesson that those that choose this unusual life are often not able to hold to plans. Two different ladies that had spent more than a little time communicating their interest ended up pursuing other opportunities. The fun part included visiting old and new cruising friends, a couple weeks of salsa dance lessons, and a visit from my friend Bonnie who you may find more about in coming pages. Some boat projects were completed; some new ones went on the never-ending list of things to do.
The actual anchorage is in a spot about 15 miles from the center of town called La Cruz. It used to be a sleepy little fishing village. Today there is a 500 slip marina and an anchorage with about 50 boats. It is the major stepping off place for those heading across the Pacific, and a cruiser mecca. A bit touristy with a large ex-pat population, but nothing like downtown Puerto Vallarta with it's high rise hotels and Costco
| | | | |
| --- | --- | --- | --- |
| Bonnie sang and played guitar while I made breakfast | Later that day we went out for a fun race | The next day we played tourist in town | We finished out the visit at a great Italian restaurant |
| Every morning I walked at sunrise, the La Cruz anchorage is beautiful but so rolly that I chose to spend the month in the marina | Salsa lessons were great, Polo and Gaby at Academia Salsa Vallarta helped get me back out on the dance floor | The iguanas in the trees didn't run off when . . . | Harmonica practice in the town square was a daily treat |
The trip from Puerto Vallarta to Mazatlan ended up being a solo. Most of the young boat hitchhikers in Puerto Vallarta were looking for rides to the South Pacific. The short jaunt to Mazatlan held little interest.

It took a little less than 48 hours to cover the 180 miles. I sailed about 230, because I had to tack a number of times. The wind was actually far better than forecast, coming from the WNW allowing the starboard tacks to cover lots of miles, and the port tacks to be short. I ended up with less than 10 hours of motoring time which is far better than on the previous four times I have done this trip. Getting a little farther away from shore gave me better wind, and less traffic to worry about when I napped at night.
| | | | |
| --- | --- | --- | --- |
| The trip started out with dry decks and smooth, fast sailing. I was prepared for rough conditions because going north in the Sea of Cortez at this time of year can be a real tough trip. I got lucky. | Both afternoons the wind was up enough to tilt the world and run the speed up | Going on deck to reef requires some safety gear to be sure to stay on the boat | Heaving to, by putting the main and jib on opposite sides of the boat makes working on deck far safer |