We're still floating around in Mexico in the Sea of Cortez (Gulf of California) on the Baja side, having worked our way from San Carlos into the upper Sea of Cortez as far north as Isla Angel de la Guarda, then slowly back south to La Paz, stopping at many beautiful anchorages on the way.

HIGHLIGHTS:

Meeting interesting people, most of them cruisers like ourselves (who else would we meet in isolated anchorages?)

Gorgeous sunrises over the Sierra Giganta.

An overnight passage during which a half-moon hung in the sky, Saturn and Venus below it gleaming like jewels, and Mars overhead glared its usual angry red. A trail of phosphorescence followed in our wake. A small school of dolphins appeared, swimming back and forth underneath our bow for fun.

Buying four pounds of shrimp (and a couple fish) for $10 directly off the shrimp boat and eating shrimp for days. Shrimp Creole, pan-fried shrimp, shrimp on the barbie, shrimp with garlic, shrimp tacos, jumbalaya, Thai shrimp...

Looking for bread in the tiny village of San Evaristo. A woman named Anna made us flour tortillas in her new open-air concrete kitchen while we watched (and learned that we will never attempt to make them ourselves).

Using the hookah (a compressor and hoses that allows us to dive without scuba gear), together for the first time. Some scallop shells turned out to be housing little octopi, which squirmed out of the shells once we'd put them in the dinghy. We had to scoop up the little creatures and toss them back in the water--it's an odd feeling when those tentacles attach themselves to your hands!

Playing the flashlight game at night, sweeping the beam back and forth a few feet from the boat. Hundreds of small fish leap into the air as the beam moves across them, glinting like knives and sounding like a rushing waterfall. A solo fish trapped in the beam becomes motionless for a minute, pale and paralyzed in the light.

Being serenaded by coyotes on the beach, howling and yapping like wolves on helium.

Figuring out how to have a few ice cubes on hand--exactly six, actually, and only when running the fridge a long, long time.

Paul returning from the States with a backpack full of red wine, chocolate, and even salmon!

LOWLIGHTS:

Getting hit by a Mexican navy gunboat (an "interceptora" used for looking for drug boats). An inexperienced guy at the helm nervously accelerated and swung the wheel hard over when he got close to us, hitting our bow with his stern. Luckily, we suffered only minimal damage. Whether the Mexican navy pays for the necessary repairs remains to be seen.

Getting chewed alive by no-see-um's, jejenes, sand fleas...whatever you call them, their bothersome bites are way out of proportion to their tiny jaws.

Discovering that in some areas, the locals are not permitted to fish for dorado (mahi-mahi). Only the tourist boats are allowed to take a share of the ever-diminishing stock.

Getting sand-blasted while at anchor in high winds. Later, Erin took a hose up the mast and came down the forestay and backstay to clean off the mud. She had so much fun, Paul only got her down with an offer of fish tacos.

Catching two brown-footed boobies (birds, and not very smart ones) on a fish hook instead of fish.


For Christmas and New Year's we'll be in La Paz. In January we'll head back to Mazatlan, which will mean crossing the sea again. Hopefully we'll see some whales along the way.


HAPPY HOLIDAYS TO ALL!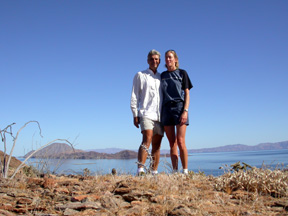 Hike on Isla Ventana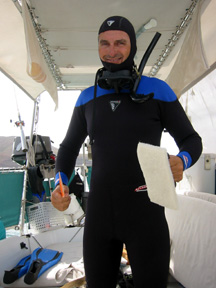 Paul prepares to scrape the boat bottom, a fun weekly chore, especially in cold water ridden with jellyfish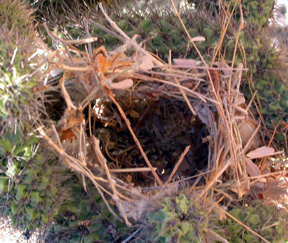 Bird nest nestled in a cactus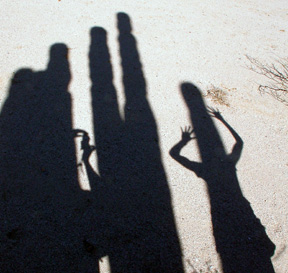 Only the shadow knows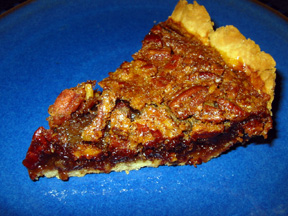 Thanksgiving chocolate pecan pie with Kahlua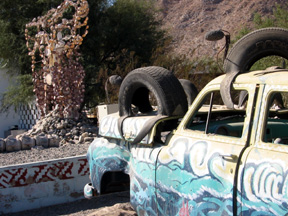 Bizarre car and shell sculpture in Bahia Los Angeles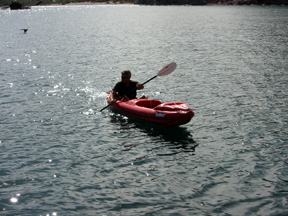 Paul returns loaded down with shrimp fresh off the trawler (just visible upper left)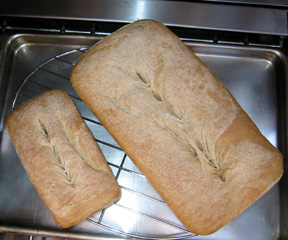 When we can't stand anymore bad Mexican Bimbo brand bread, we make our own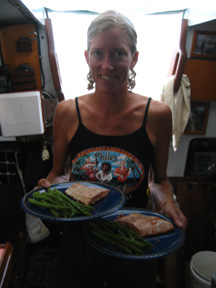 Salmon is not something we see often down here, but Paul brought some back from the States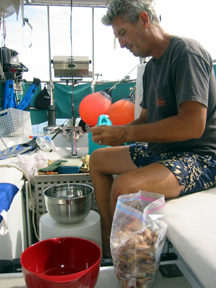 Shelling pounds of shrimp in the cockpit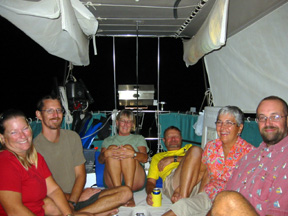 A cockpit full of cruisers at Punta Chivato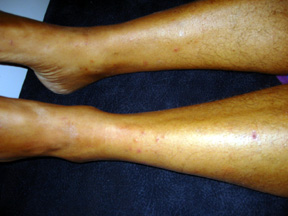 Whether you call them "no-see-um's", "jejenes", or "sand fleas", we were sometimes covered in bites from their tiny but powerful jaws