Paul LOVES Carnaval, or basically anything involving crowds of happy people, dancing, and lots of music. Ever since last year when we had to leave Mazatlan before Carnaval, Paul has been anxiously awaiting his next fix. This year we made sure we were in Mazatlan for the world's fourth-largest pre-Lent celebration, which took place from January 31st through February 5th. Six nights of partying and frolicking in the streets (armed at all times with earplugs) was enough even for Paul.

With cruisers on three other boats, we went in on a room at the fleabag Hotel Belmar on Olas Altas. Although we had the room for the minimum Carnaval stay of three days, no one was interested in spending the night there (except the kids). The focus was our 4th-floor balcony overlooking all the festivities. On Saturday we showed up at noon armed with laptops to take advantage of the lobby WiFi. When we told the Mexican hotel management there would be a dozen of us, including kids, they laughed and said, "The locals will have thirty people to a room."

That evening we all brought potluck offerings (including sushi) to the room along with our own libations and the partying commenced. Our group included three kids, so nothing got too crazy. The fireworks were the highlight of the entire event. The scene celebrates a Mexican victory in an 1864 battle between a French warship and Mexican land artillery at Olas Altas Bay in Mazatlan. Not surprising that the rallies from the "warship" were puny and of very short duration, while the responses from the beach were impressively loud, long, and colorful. These rallies were launched from the beach directly in front of our hotel, and a few times flaming bits descended right into the crowd! We shouted nasty anti-French things like, "I fart in your general direction," and "Your father was a hamster and your mother smells of elderberries," but the Monty Python references were lost on the Mexican crowd.

Acrobats suspended from guy wires turned and spun gracefully, stretching out their blue and gold Pacifico capes like butterfly wings and tossing beads into the crowd. (Beer maker Pacifico is a major sponsor of the festivities.) One night Paul caught a blue necklace with a perfume dispenser-looking pendant thing that said, surprisingly, "Pacifico", with a little strobe light. Wow! A momento to treasure for life--along with a blue-stained neck (wouldn't it be great if the stain said "Pacifico").

Shannon on "Sweetie" rode the mechanical bull! As for all of the female riders, the ride started out with a couple minutes of vibrating bull. The traditional Burning of Bad Humour before the fireworks turned out to be more of a Sparking-Flame-Out. This year's disliked character burned in effigy was the guy who lassooed the Mazatlan deer statue and dragged it around town behind a truck last year. After a few sparks flew, the rescued paper-mâché deer disappeared in the direction of the beach, perhaps in search of a cooling swim.

One of the more amusing and very typically Mexican aspects of Carnaval here is the scheduling, or lack thereof. We had printed itineraries showing the times and locations of all the events, half of which turned out to be completely incorrect. Thursday's "food fair" turned out to be Friday, and instead of the stalls we expected, "food fair" meant a small discount in the restaurants surrounding Plaza Machado. When we showed up at the Fisherman's Monument at 6pm for the crowning of the King of Alegria (King of Joy or of Fools, who knows?), we knew it was a bad sign when there were only a few confused backpack-wearing gringos standing around consulting their printed schedules, hoping to conjure into reality the events printed on the page...The actual crowning took place after 10pm a mile away. Pacifico beauty queens and sulking queens from other countries strutted across the stage, and finally the oversized king was crowned.

On Friday Paul finally gave up on his dream of finding what he found here 15 years ago: an enormous paella pan in the main square. We ate at a potato cart, then a few of the girls split for a wild night of salsa dancing. The club's location at a local mall should have been a giveaway, but we naively pursued our fantasy of a flashy spot filled with beautiful Latinos dressed to the nines and spinning each other expertly around the dance floor, just like we've seen in the U.S. The evening turned out to be a waste of lipstick and uncomfortable shoes. We sat around an abandoned food court waiting for the club to open. When we got kicked out of the food court, we stood curbside watching a dismally small number of arrivals, flesh spilling from their scrungy jeans and T-shirts, gabbing on their cell phones, and probably deciding it wasn't worth the 60 peso entrance fee to see other slobs in tennis shoes talking on THEIR cell phones. However, we did enjoy a good gab session and got a great ride back to the harbor in a red "party truck", which blasted Vanilla Ice from its stereo. After screaming, "Ice ice baby" for a while, someone requested a switch to Mexican ballads. For the ladies, the night concluded very satisfactorily with a Bailey's and coffee movie night on "Sweetie". The slightly drunk men showed up well after midnight in their dinghies, crowned with silly hats and wearing loud Carnaval T-shirts they won by purchasing copious amounts of Pacifico. Those who bought truly huge amounts of beer got to have their photos taken with scantily-clad, fun-loving Pacifico girls. Maybe we weren't supposed to see those photos. And here the guys were worried about the women going off by themselves to a wild salsa club, perhaps to be whisked away by sexy, gyrating-hipped Latinos. No such luck.

On Sunday at about 7pm we were watching the Super Bowl in the hotel room while waiting for the festivities to start, when an enormous sonic "BRRROOOWWWWWMMMM" resounded, shaking us right to the bone. Some thought it was an earthquake; others thought a jet was crashing into the building. It was just the guys next door testing their jillion-watt mountain of speakers on their balcony. Soon the test phase was over and the music started. The floors vibrated, the windows shook, and we all fled outside, fearing the entire front of the building might collapse. We got the room partly as an escape from the crowded street, but now the room was louder than the street. So much for our peaceful oasis! And the parade we had been told would pass just below our balcony in fact took place a mile up the street (see scheduling or lack thereof).

On Monday, Paul was still going strong. I agreed to one last night of crowds and the ubiquitous thumping sounds of "reggaeton" (a sort of Mexican hip-hop) and the German-influenced oompa music of the local brass "banda tamboras"--great if you're into polka. I searched in vain for salsa music and was grateful for my ear plugs. We dined on thinly pounded hamburgers ("sin mayonasa, con mostaza"). Mayo comes in red squeeze bottles and is squeezed in abundance on EVERYTHING. It's hard to remember that what's going to come out of that red bottle isn't ketchup, but Paul remembered and shouted "No mayonasa!" just in time. Mustard is often high up on a shelf at roof level, requiring an employee to get a step ladder and consult a manual before removing it. Mustard is not a real popular item here.

Later we wore our matching blue and silver full face masks. Walking through a crowd notably lacking both in masks and tall people, we got more than a few stares. At a little after midnight, since it was our last night in the hotel, we cleaned out the remains of our room (vodka, limes, plates, dish rag--definitely no cute little hotel soaps or shampoos, but maybe a couple roaches). At the insistence of my tired feet and Paul's troubled knee, we took a pulmonia (open air taxi) back to the boat. Maybe next time we'll attend Carnaval in a rickshaw.

Earlier in the evening we got a call from Fernando, who gave me Spanish lessons last year when he was still waiting tables at a local restaurant. Now he's finished his engineering degree and has a job in Puerto Vallarta. He was only in town for a few days, so we were thrilled that he contacted us at all. We met him for a couple beers at Topolo, the restaurant at which he used to work.

On Tuesday I chose to skip the second parade (a repeat of the first, but this time it passed directly in front of the hotel room we no longer had). I stayed on the boat working on this durned website and watching DVD's. I sure do like my new DVD player (Happy Birthday to me), and it doesn't consume too many amps. Paul partied one last time. On returning at 3am, he reported the crowds to be thinner than he had anticipated. It wasn't really that Fat a Tuesday...

Now we're getting ready to leave Mazatlan and sail (or more likely, motor) 150 miles south to Puerto Vallarta, where my parents have a time share (now referred to by marketers as a "fractional ownership"!) starting around Valentine's Day. We'll be hankering after those color-coded towels that allow access to the fancy beach resort. And for Valentine's Day, maybe we can do another timeshare presentation. Last year we got a great buffet breakfast and $200 cash!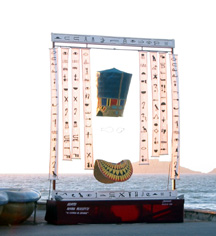 Giant mask sculptures were arrayed around town a week prior to the start of Carnaval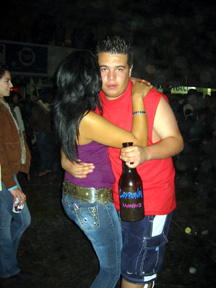 A typical couple at Carnaval, complete with giant beer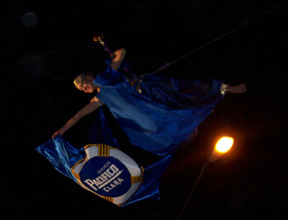 Pacifico acrobat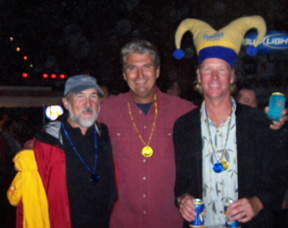 The Three Amigos: Mike on Windy City, Paul, and Tony on Sweetie"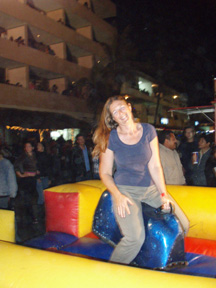 Shannon of Sweetie gets down with the mechanical bull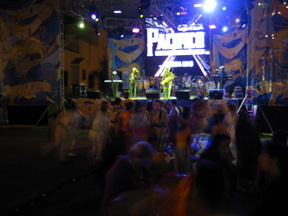 One of many stages for performing bands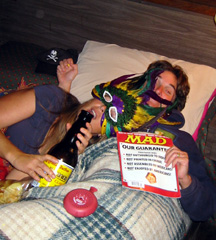 Shannon from Sweetie and Eileen from Flying Cloud enjoying the hotel room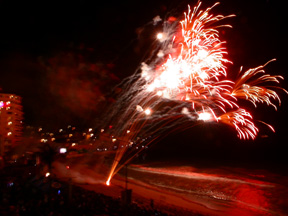 The fireworks were set off very close to the crowds--liability lawsuits aren't a problem in Mexico!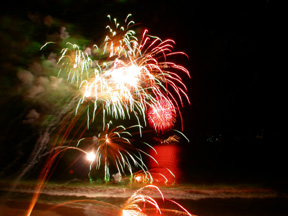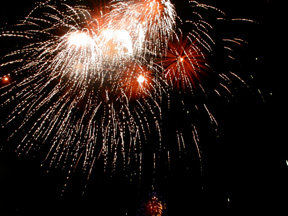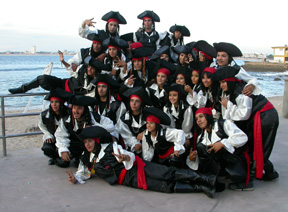 Will the real Johnny Depp please step forward...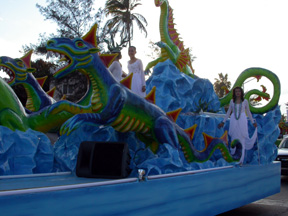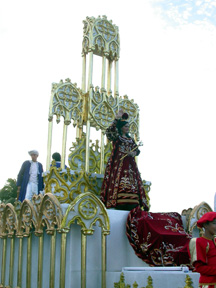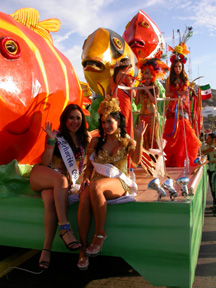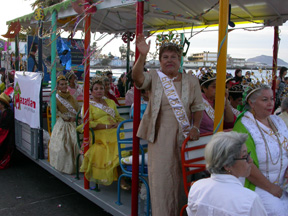 Carnaval queens from years past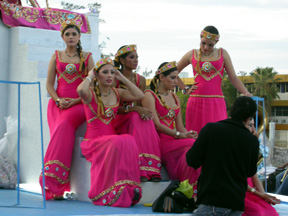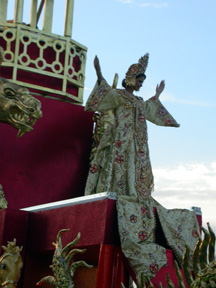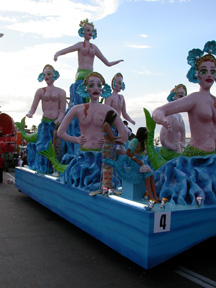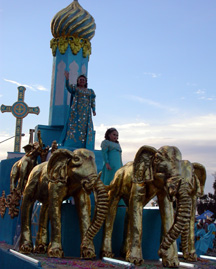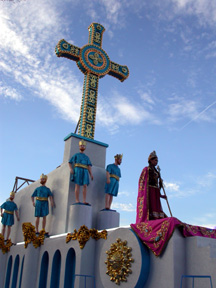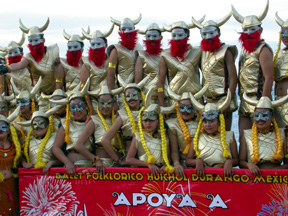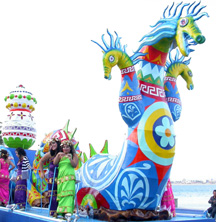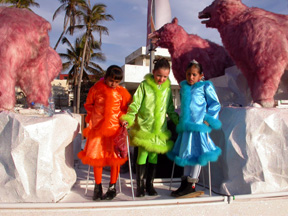 "Jetson Girls" meets "March of the Pink Polar Bears"?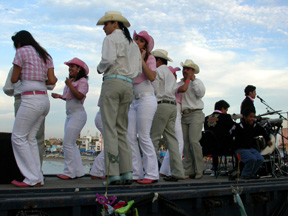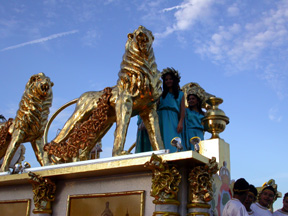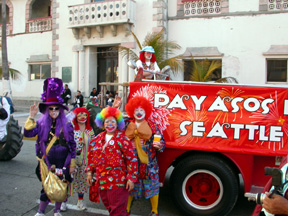 Who would expect Seattle SeaFair clowns in Mazatlan?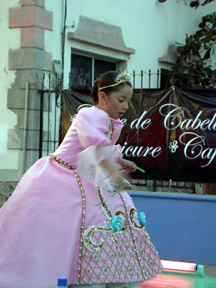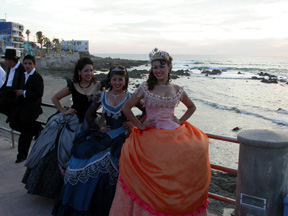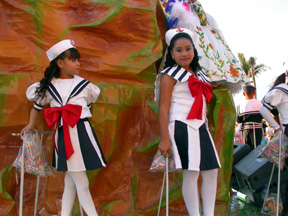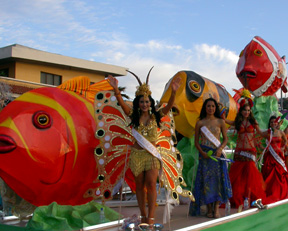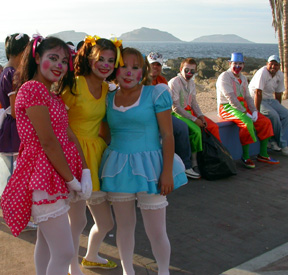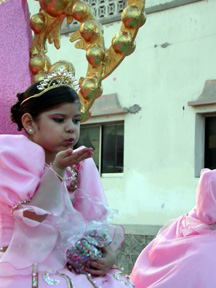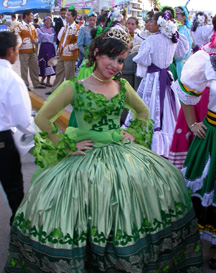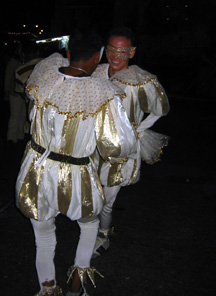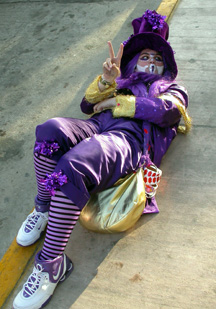 Clown on break