Gambier to Bora Bora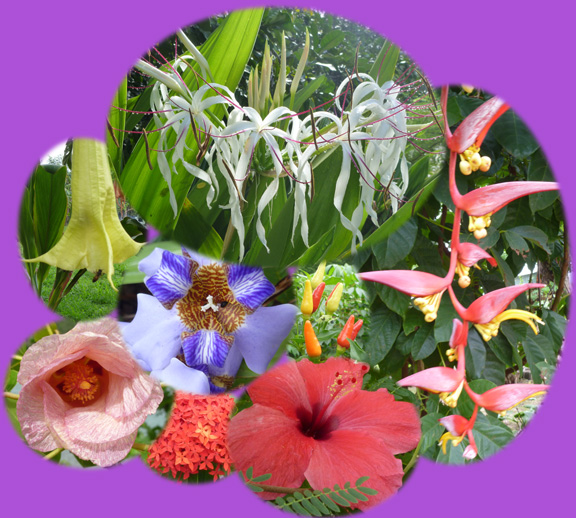 We arrived in the Gambier islands in their Fall
There were still plenty of flowers in bloom to welcome us to French polynesia
Sailors who don't want to fight hurricanes visit the tropics during that hemisphere's winter months. So we arrived in the southern hemisphere in autumn, at the beginning of an El Nino cycle. Normally this is the drier season for French Polynesia, but El Nino brings more squalls than usual to the Pacific islands. This made for very lush and green Gambier islands, but the colder temperatures tamped down the usually effusive flowering. This just shows what a verdant paradise this area is - that the lovely flowers we saw could be described as disappointing compared to other years!
| | |
| --- | --- |
| Pirates of the Gambier! Rikitea is a long skinny town that follows the coastline, with the high interior of the island rising sharply behind it. We anchored off the public park and sports complex, near the swimming beach. One Saturday afternoon a group of kids at a birthday party decided to swim out to the nearby boats. They hung in a line from our toe-rail while practicing their few words of English and trying to tell us all their names at once. They couldn't believe we were so uneducated as to not speak French! When Paul's epoxy work on the chainplates scared them away, some took up position in the kayak Bonnie had left trailing in the water. Eventually she got in with them and ferried them back to the birthday cake. | |
| | |
| --- | --- |
| | The Gambier has a rather odd history with the Catholic church. The first missionaries were highly successful in converting the entire population in just a couple years, but then worked them to death (literally) building European-style churches, government building, and even celebratory arches. The main cathedral has recently been renovated (in a more local style), but most of the outlying chapels are being reclaimed by the jungle. We found this ruin in a banana orchard on the northwest side of the main island. Some masonry seems to have been added later, possibly to keep people out. The land around it is carefully trimmed and cultivated, but the locals seem to want the jungle to erase this painful past. |
| | |
| --- | --- |
| Our ship came in! Actually, everyoneís ship comes in at once in an outlying community like the Gambier. A cargo ship comes through roughly twice a month, importing everything from food to mechanical parts to new SUVs. It only takes a couple hours for the efficient crew to unload and conduct their business, so the whole town turns out to claim their orders and enjoy the spectacle. The boat is organized for space and weight, so the crew run two or three different cranes shuffling around big cargo containers to get at the right ones for this port. We saw a flat-bottomed boat (possibly their mobile fuel dock) and a new car go soaring between the boat and dock a couple different times during the shuffle. Itís a carnival atmosphere, where friends greet with kisses and call good-natured teasing to people picking up large orders of toilet paper. We didnít have anything on order, but were there to stalk any good-looking fresh fruit and vegetables that were being delivered to the small stores in town. Paul was very effective at this, and was first in line for the best freshies when the shop opened a couple hours later. | |
| | |
| --- | --- |
| | Though French Polynesia is emphatically a territory of France, Polynesian pride is evident in the Tahitian flag flying slightly higher than the French. We regretted not getting a Tahitian courtesy flag to fly with the legally-required French one on our spreader. We saw people wearing T-shirts proclaiming their membership in the Society of Mangarevans - the regional culture associated with the blue starred flag. Despite having studied a French audio program while crossing the Pacific, we arrived with very little ability to communicate in French. This was a problem when trying to talk with cruisers on other boats, most of whom were French. When Bonnie greeted one of them in English, he responded, "We're in France, and we speak French." Luckily this attitude was only among those cruisers. The local people were friendly and welcoming in ways that transcended language, and were happy to help us learn some words in the local dialect. The only time we got a lukewarm reception from the locals was when we tried to buy some of the very limited supply of freshly baked pan-au-chocolate. After witnessing the way ingredients are shipped in, we're inclined to be sympathetic with their protection of this small luxury. |

One of our new Mangarevan friends was Niko, who paddled his pirogue across the bay everyday and seemed to greet everyone with a smile. He let Bonnie try his pirogue - a big honor and show of trust, as his boat cost a couple thousand dollars to build out of carbon fiber! She, in return, encouraged him to try our inflatable kayak. They paddled around the anchorage in the rain, laughing about how much slower the kayak is. The long sleek pirogue is much faster, but difficult to turn. Bonnie paddled in large circles, trying to lean into the outrigger brace so she wouldn't tip over. Niko carried a thick glass vodka bottle in the pirogue, which confused Bonnie until she realized he was using it as a water bottle!
When we left the Isles Gambier, we angled northwest towards the Society Islands (home of Tahiti) hoping to find warmer, sunnier weather. Wind was light, so we made slow progress jibing back and forth to avoid hitting the many small islands along the way. Bonnie compared this to a slow-motion pinball game. Most of the islands were too far away to see (that's how sailors usually like it), but these islands snuck up on us through the tropical haze. We passed right through the Windward Societies, and at one point could see Tahiti, Moorea and the atoll Tetiaroa all at once. Our goal was the Leeward Societies and mythical Bora Bora.
There were high islands
There were low atolls
And finally there was majestic Bora Bora