To be clear--this is NOT Paul's first passage. He has plenty of open ocean experience. But it is Erin's first time at sea for more than a few hours, unless you count a cruise ship, so this is really her story.

After some quality family time over Mother's Day weekend, we take off from Ballard yet again (where we've been most of the past six years) and hang around at different anchorages in Puget Sound for a week or so.

May 24th
Working our way north, we leave Port Townsend at the northeast end of the Strait of San Juan de Fuca at 4am and motor west. Dozens of Dahl porpoises feed around us outside Dungeness Spit. We arrive in Port Angeles later that morning in time to enjoy a several-million gallon sewage spill in the area. Mills dominate the town, and clearcuts slash across the surrounding hillsides. The night is short and mostly sleepless.

May 25th, First real day of passage
We leave at 2am to go out with the ebb tide. Like George W., we like things to be with us and not against us. (We also consider ourselves "deciders"). My anxiety level is high. This is my first time out on a boat at night in decades. Drowning scenes from "The Perfect Storm" and "Castaway" keep running through my mind. The plan is to be passing under the Golden Gate bridge in five or six days. The reality turns out otherwise.
Again there is little wind, and we motor all the way west through the Strait. It's over 60 miles to the west entrance of the Strait from Port Townsend. In the afternoon we pass Cape Flattery, the northwesternmost point of land in the contiguous United States, and are in open ocean. I sit in the companionway, dry and warm under the hard dodger, enjoying the ride as we pound into the six-foot swell out of the west hitting us on the nose. I'm exhilarated to be at sea. After a possibly too-large lunch, I go below to look for a cookie. Nausea rears its ugly head, within 20 minutes it's all I can think about. I lie down and try not to throw up, then do so as soon as I sit up. Luckily I had already requested a bowl. I take part of a seasickness pill (Sturgeron) and watch the horizon. Later I lie down again, trying to get some rest. Now we start maintaining a watch schedule, three hours on and off at night, and six hours on and off during the day. We need to sleep whenever we can. After 12 hours riding the green monster, my stomach begins to settle.

May 26th, Day Two, off the Washington coast
After midnight, Paul takes my watch and stays up all night dodging large commercial fishing boats, the kind that go to the Bering Sea, one of which makes a sharp turn a couple hundred yards in front of us to cross our bow. They seem to hate us, maybe because we have right of way, although we never assume they will respect it. I am thrilled to sleep over five hours. At 0500, Paul is exhausted and goes below to try to sleep and I stand watch. Mostly I feel good. The seas are calmer, the motion more regular. More wind is forecast for tonight, but for now it's relaxed. I wasn't prepared for the stench below in the cabin. Stale breath and sheets combine for an odiferous vapor you can almost see. Part of preparing for a passage is removing the dorades on deck that normally allow fresh air into the cabin, as water could get through them. An environment that has always been in need of a scented candle is now far stinkier, even with the hatch open. Later I spray a bit of perfume on the sheets. A girly thing to do, but it does help. There was some yelling today. Something along the lines of "Release tension!" and "CONTROL! CONROL!". Response: "Don't start yelling at me, or I'm outta here!" Where I thought I was going I have no idea. At least we were sailing for a while and not motoring.

I take my watch from 1800 to 2100. Beautiful evening. Rain falls to the west all along the coast, but not on us. I feel smug, both about the rain falling on everybody on land, and about finally leaving the climate I've been sick of for years. I'm sure I'll miss the trees and hiking in the dense wet forest (not to mention family and friends), but not the rain. We're sailing again and the motion of the boat is smooth and predictable. For the moment things are calm. I love the quiet time to reflect and stare at the ocean. I get the advantage of being alone, yet Paul's right there if something goes wrong. My job is to sit here and stare at different things and watch for other boats and wind changes. If I got a salary, it would be like being paid to do what you want to do anyway. We've been on the same tack for hours, a far cry from tacking back and forth in the Columbia River every 20 minutes with my dad when I was a teenager. Tons of crab pots, often one every 100 feet, mainly when we're across from a community of any size. It's nice to have a break from the inane conversations we have trying to be heard over the noise of the engine:
"I keep forgetting to turn off the water pressure."
"WHAT?"
"I'm taking an Advil."
"WHAT?"
"There are lots of birds out here."
"WHAT?" and so on.

May 27th, Day Three, off the northern Oregon coast
It's just afer noon. The weather forecast has been wrong from the beginning, and always to our disadvantage. We were supposed to have a nice sail through the Strait instead of having to motor. It was supposed to be calmer around Cape Flattery. NO mention was made of the two opposing wave trains that resulted in such a wild ride. Then the wind was supposed to move clockwise and come from behind us so we could stop beating into it and the waves it produces. It did finally go more westerly, but is coming at us from the side and not the stern. And it happened 24 hours later than forecast. The swells are bigger than predicted. I can't believe I'm not puking. We're getting tossed around pretty good. I've slept maybe six or seven solid hours since leaving Port Angeles Thursday morning. Paul hasn't done much better. Right now he's supposed to be off watch, but the wind vane broke and the autopilot can't handle the larger waves, so now he's hand steering. I only hand-steered for about 15 minutes while Paul took a quick break. A wave broke on me—I've been initiated! I would have remained at the helm for a while, but Paul wants to maintain a difficult course through the swell and increasing wind and didn't want me to do it. I'm content to let him sit out there in the spray. We're exhausted and want to get into port for some rest and repairs, but Newport, Oregon was closed to vessels over a certain size, which included us. Every port along the Washington and Oregon coasts is entered by crossing a bar. The tide moving across the bar creates large waves a short distance apart, so smaller vessels can essentially fit between the waves more easily than larger boats, which tend to get thrown sideways and sometimes capsize. Aside from the crab pots, the fog, the shipping and fishing vessels, and the unpredictable weather but predictable cold, this is one more reason this passage is considered difficult; if you need to get to shore, it's often difficult to do so safely. Now we're hoping to get into Coos Bay, but the wind and tide may not cooperate with our plans. In that case, we may be forced to continue down the coast with a broken wind vane and insufficient fuel. We figured out yesterday when Paul got out the dipstick that we've got a little over 4 gallons left in the tank, when we thought we'd have much more. Paul put in 15 of the 20 gallons from jerry cans on deck. We're getting 1 1/2 engine hours per gallon of fuel, which is about 7 1/2 miles per gallon. We're doing our part to contribute to global warming. We have to use the engine to get into port, and it's also handy when the wind is blowing straight at us or dies altogether. We have plenty of fuel to get us into Coos Bay, but not enough to get us to San Francisco, so this is not a great situation.

Why can't I sleep? I think it's a combination of adrenalin and anxiety. I'm constantly checking and re-checking things when I'm on watch: is the water pressure off? Head valve closed? Head sink valve closed? Propane off? I keep waiting for that relaxed feeling I experienced during that one watch to return, but no such luck so far. I keep thinking how much worse this would be if I hadn't already been living on board and experienced all the intricacies of cooking and cleaning up underway, using the head, knowing where all the circuit breakers are, knowing where tools are Paul is requesting, etc.

This really sucks. I'm so exhausted, and borderline queasy, but then I feel a bit nauseated when I'm this tired anyway, so maybe it's not seasickness anymore. I have sore muscles in strange places—shoulders from the weight of the harness, forearms from supporting myself in weird positions on watch, trying to alter my sitting position. There's no question of eating more right now than crackers and cookies. It's an effort to drink enough water.

May 28th, Day Four, off the central Oregon coast
At 0030 when I get up, Paul wants to talk. Uh-oh, I think, he's going to tell me I need to work on my sailing skills or learn to sleep in any conditions or something. He tells me if I walk off the boat in Coos Bay and don't ever want to get back on it, he's going with me. He's with me, not the boat. While that's nice to hear, I'm concerned he wants to continue on watch throughout the night—his second without sleep, even though he's worried about the bar crossing later today. He sounds a little delirious. I assure him I haven't been thinking about jumping ship. I'm hoping this is among the worst passages I will ever see, and above all I want to get somewhere warmer. At least I don't feel too queazy, and I've only taken one half of a seasickness pill since that first day. Before we left I was most worried about seasickness, but now sleep deprivation concerns me the most. You can't take a sleeping pill when you need to get up and be alert in less than three hours.

0412: I'm on watch. Paul went to bed protesting. Now he's snoring down below. There's just enough wind to motorsail. He was worried I would freak out on a night "darker than the inside of a well digger's asshole," he called it. Clouds covering the stars, raining off and on, pitch dark. Every 10 seconds the cockpit glows eerily as a lighthouse 11 miles to the east sweeps us with its rotating beam. If there are crab pots, I can't see them. It's ironic I can see a few lights on the coast and the glimmer of light on the horizon indicating a town, but to turn toward land now would be to turn toward danger. "No sailor could consider this a cruising ground," says Charlie of Charlie's Charts regarding the Pacific coast from Cape Flattery to San Francisco. Amen to that. But he didn't mention the grinding exhaustion caused by that 9-foot swell always coming at our beam from the west. My neck hurts. My shoulders hurt. I want a cheeseburger. I want this god-awful motion to stop. I want off the boat. I finally really sleep after waking Paul up about 0515 when I think we're approaching a squall. We move so slowly, I misjudge how long it will take for for us to get to something like a squall line or a fishing boat that's not moving. When I wake up, I'm surprised to find myself on a boat, so I must have slept well.

Note to self: Try to avoid having a guacamole and tomato sandwich at midnight. The garlic isn't conducive to sleep a few hours later, and it's so dark you wouldn't know if you had avocado dripping from your chin down to your sea boots.

0700: Paul contacts the Coos Bay Coast Guard to request an escort over the bar in Coos Bay. The response: the bar is closed to vessels our size. Paul explains about our broken wind vane and says we're exhausted and need to come in.

1100: Now the bar is open to all vessels, but the wind is increasing and still on our nose. We increased engine speed to get to the bar before the end of flood tide. If we don't make it before then, the bar will close again and we'll be stuck dinking around out here until tomorrow morning. Just heard over the radio the Coast Guard pulled six people out of the water after their boat overturned crossing the bar at Newport, the town we had to bypass further north. Someone on another boat had a heart attack, and a third guy is suffering an asthma attack that leads to "slight convulsions". Who knew the VHF would be "reality radio"?

Paul heats up broccoli/tater curry and says we must eat it despite its strong smell. If we toss it out, it might kill some fish.

1140: The engine dies just under 5 miles from the Coos Bay channel entrance. I rise to the occasion by going below with a sudden attack of diarrhea. Somebody might be leaving soap on the dishes in her efforts at water conservation! Turns out we unknowingly had the fuel lift pump in the "off" position. The switch is located above a galley counter with snack stuff on it, so it probably got switched by a Tupperware or something getting tossed against it. Paul may remove the switch later, as this is a serious safety issue. For now we'll have to check it whenever we're coming into port or just on a regular basis.The pounding motion of the boat into the sloppy seas burps the air out of the fuel line, but it takes an hour for the engine to stop stalling.

The air in the fuel line problem made us nervous enough not to cancel our request for an escort, even though conditions look good for crossing the bar. We feel like wimps coasting in without a breaker in sight, but get a nice photo of the U.S. Coast Guard vessel off our starboard quarter. I'm sure they appreciate being photographed by people who've asked them for help.

1625: Arrival at Charleston guest dock just inside the port entrance. The docks are filthy and sea lions lounge on most of them. Locals in lawn chairs drink beer out of cans and check their crab pots. A few of them have to move so we can tie up. They tell us the city center is six miles away. We retrieve the dock lines and motor over an hour down a channel through an estuary to Coos Bay Transient Docks next to busy Highway 101. We finally get to tie up and relax, which really means wash the boat inside and out and find out where to get a shower and wash out smelly sheets. We find a room for $45 at the Best Western two blocks down the street, where they take pity on our smelly exhausted selves and give us a bargain rate. Heaven! Toilet, shower, hallelujah!

June 1st
We've made repairs. This is the cheapest moorage we've ever heard of--$100 a month if you can get a slip. But there are no toilets and we have to borrow hoses to reach the water 100 yards away. The locals are extremely friendly, giving us a ride back from a concert, helping Paul carry jerry jugs of fuel to the boat, and even letting us shower at a gym for free! We also found some excellent ale. Now we wait for the wind to come more from the north instead of out of the south as it is currently. We don't want to beat into it anymore. It looks like Monday morning early might work, but who knows. We'll see. We may have to make short hops to take breaks from the nasty swells out there. If necessary, we'll go in again at Eureka, but we'd like to get to San Francisco before July!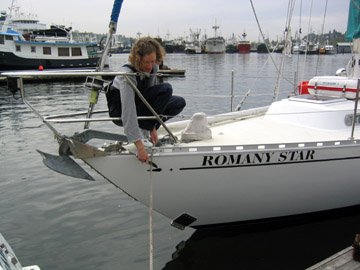 Cutting the docklines in Ballard