Toau Atoll - The Tuamotu Archipelago

August 2009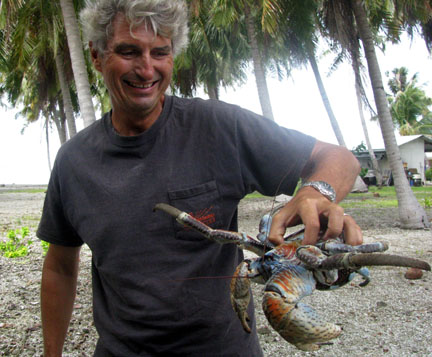 Paul admires the coconut crab before dinner

We returned to the Tuamotus, the gorgeous group of atolls about 200 miles east of Tahiti. At Toau, Gaston and Veronique make a living pearl farming, fishing, and serving dinner to cruisers a few nights a week. They are warm and welcoming people who encourage cruisers to spend time learning their way of life ashore. For three weeks, we spent many hours talking to them, watching them cook, maintain their property, and collect fish from their traps (and sometimes we helped out). For the convenience of cruisers and to save the coral, they have set up mooring balls in the anchorage. The charge for the mooring is included in the price of a 7-course dinner in a beautifully decorated enclosed porch, through which you can look down to see fish swimming underneath. The menu included coconut crab focaccia, lobster, poisson cru (similar to ceviche, only made with coconut milk), breaded fish, and varo. Varo is similar to lobster, but is rapidly disappearing from the islands due to overharvesting. We ignored our guilty consciences and decided to try it just once; it surpassed the lobster! All this was accompanied by homemade bread, with coconut pie for dessert.
| | |
| --- | --- |
| | We were usually the only American boat in the anchorage, but the French and German cruisers spoke English well. There was plenty of socializing ashore, and the majority of conversation was in French, which was great for Erin, but not so great for Paul. We got to know Valentine and Gaston and some of the cruisers pretty well. We even learned a few words of Tuamotan, which is not the same as Tahitian. |
| | | |
| --- | --- | --- |
| | | |
| Valentine getting ready to serve coconut pie | Philippe preparing copra | Gaston grilling lobster and clams |
The enclosed porch in "restaurant" mode
Paul learned from a master how to collect coconut crab and lobster. Philippe, the second husband of Valentine's mother, gathers coconuts to sell copra (dried coconut meat used to make coconut oil), which the French government subsidies to discourage mass migration to Tahiti of people unable to make a living on the outer islands. He took Paul out lobster hunting on the reef one night. It's not a simple thing to wade through water and surf over uneven terrain with many coral heads and nothing but a flashlight to see by, but Philippe made it look easy. He moved at almost a run, negotiating the surf and maneuvering around reef canyons in the dark. Paul had to work hard to keep up, and managed to bring home a few lobsters for dinner.

Philippe also showed us how to catch coconut crabs. He ran about the motu setting up coconut "traps" in the bush by tying coconut halves to trees using strips of coconut husk. Two hours spent checking all the shells after dark yielded one large male crab. To keep harvesting at a sustainable level, locals are encouraged not to take females.
Valentine and Gaston take care of a sea turtle and an orphaned frigate bird. Both are free to leave if they wish, but so far they don't.
| | |
| --- | --- |
| There was good snorkeling directly from the boat, and an enchanting "garden" of colorful coral on the outside of the atoll. We fired up the hookah for a dive just outside the reef, where we saw a silver-tipped shark that kept its distance, a cool filefish, blue-spotted groupers, and a large turquoise-blue Maori wrasse with its distinctive bump on the head. A school of fearless dark jacks weren't bothered when we swam among them. | |
Valentine and Gaston are busy people. They spend their days maintaining their property and preparing restaurant evenings. One afternoon, they called for a work party. We tore out some brush, old drums and trash. Gaston sank the some it well off shore. The brush and plastic trash were burned.

During the summer when there are few visiting yachts, Valentine grafts oysters at a rate of 200 a day, with Gaston operating an assembly line of oyster sorting and preparation. She has 15,000 oysters she needs to graft this upcoming season. She sacrifices one of every 25 oysters, using part of its body for 24 oyster grafts--a delicate operation that takes considerable skill.
| | |
| --- | --- |
| Dislocated by the yardwork, this gecko decided to call a pair of sunglasses its new home. | |
| | This outhouse's dumping days ended 15 years ago, when over-the-water toilets were outlawed. It was burned shortly after this shot was taken. |


Valentine and Gaston emptied out their fish traps before leaving for another island to attend a wedding. They donated many fish to the cruisers, who had a big barbecue ashore. The following day, a French boat blew a conch shell in farewell as we sailed off through the pass. Amyot Cove, Toau, already holds a special place in our memories.