San Carlos is located on the mainland side of the Gulf of California, about 250 miles south of the border at Nogales, Arizona, or about a 13-hour drive from San Diego. It's an area of beautiful bays surrounded by dramatic rocky hillsides. San Carlos is popular with American sports fishermen, who drive south in droves to pursue dorado (mahi mahi) and sailfish. Some of them own a vacation home or retire here; many of the cars parked outside the expensive homes lining the hillsides of San Carlos have U.S. license plates.

15 miles west of San Carlos is the small city of Guaymas. The "small village" has grown to over 100,000. For years it's been an important center for commercial fishing and the shrimp industry. Its bay harbors freighters and tankers filled with oil and grains.

As overfishing depletes shrimp and fish in the Sea of Cortez Guaymas, which is almost entirely dependent on this single industry, is suffering. However, the many new housing developments in San Carlos are providing construction work and are drawing increasing numbers of Central Americans to the area. Plans are underway for the Guaymas harbor area to eventually draw cruise ships and container ships from the Orient.

Okay, enough of playing the tour guide, already. We had a great, but busy, stay in the U.S. from April - July. We drove to San Jose to visit family, then Paul flew back south to San Diego to work at Downwind Marine, while Erin drove up to Portland to sign up with temp agencies and stay with her younger sister, Meghan.

Favorite temp agency applicant test question: Please check the category that best describes your current use of meth:
Heavy, but controlled
Recreational use only
Very light use (less than 3 or 4 times a year)
Do not use

When Paul arrived in the Pacific Northwest in mid-June, we moved into Erin's parents' lakehouse to celebrate their 50th anniversary, work on some projects, and occasionally even relax with family and friends. We managed to squeeze in a few days at the Waterfront Blues Festival in Portland and saw the Fremont Solstice Parade in Seattle.

In August we drove back to San Carlos without mishap. We stopped at Negri's in Occidental, California, a spot Paul ate at when he was a wee tot. Our server Lenette was appalled at how much sauce Paul had left on his plate of Chicken Marsala, so she wiped the plate with a piece of bread. "Open up!" she said to Paul. He did, and she hand-delivered the sopping piece of bread. As I was walking toward the restroom, she announced, "I'm kissing your husband!"

The only slight hang-up was being stopped by border patrol--not at the Mexican border, but in Arizona heading east, where Homeland Security and their drug-sniffing dogs paid us a visit. Paul was convinced they were hunting for illegal aliens, but then why would they want to put a dog in our car--because they thought it would sniff out a Guatemalan in our cooler?

We needed to work on the boat before putting her back in the water, but the heat in the boatyard was suffocating. A week in a spacious and air-conditioned but roach-infested suite at Gringo Pete's hotel allowed us to cool off at night. The roaches were a mutant 24-hour variety that caroused in the kitchen at noon. When she heard I had been sick, the maid took time from her busy day to make me a lime drink, with limes straight from a tree three stories below, and sugar and salt from another room. The limeade was delicious, and a great example of Mexican kindness.

Once we were back in the water at Marina Real, we lasted exactly one sweaty and sleepless night before breaking down and buying a window air conditioning unit to put in our main hatch. We used to laugh at people who holed up in their air-conditioned boats in a marina all summer, but it's wonderful to descend into our cool oasis of a cabin. For a refreshing afternoon swim, there's a lovely swimming beach near our friends on Sweetie, who are in a slip across the marina.
Alas, marina life is not all salt water swims and socializing. Our refrigeration system was giving us grief, and Paul ended up going back to the U.S. to get a new motor. He also re-bedded all the chainplates and two of the portlights and constructed a new shade awning while Erin polished stainless and re-stocked the medical kit.

We're hoping to leave Marina Real the first week of September, spend a week at anchor in nearby San Carlos Bay, and then, with most of our projects completed, sail north to island-hop again in the undeveloped northern Sea of Cortez. This is our last chance to work on the boat in a marina slip before we leave Mexico for the Galapagos in February (see Calendar).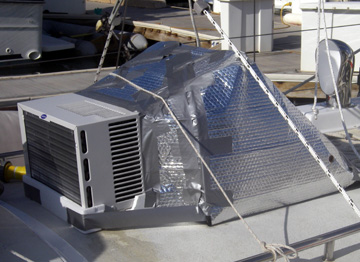 Putting a window A/C unit in the main hatch made the cabin an oasis of cool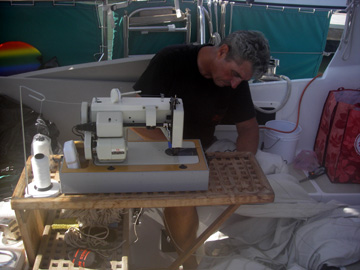 Paul sweats away while working on a new shade awning in the cockpit sewing center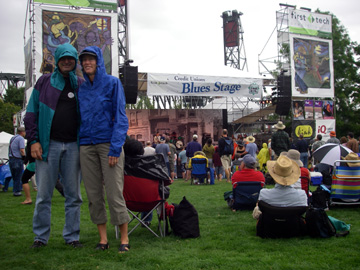 Drizzled on at the Waterfront Blues Festival, Portland Oregon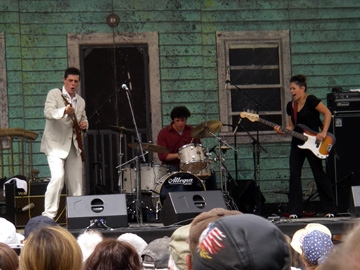 Trampled Underfoot--our favorite band at the Festival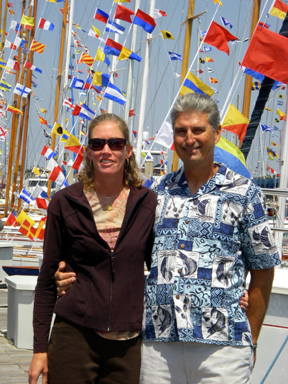 San Diego Yacht Club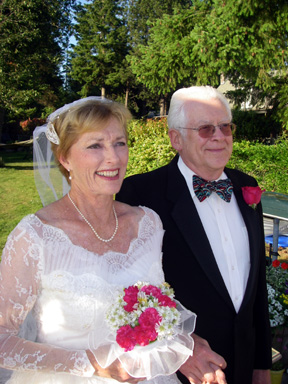 Dr. and Mrs. Huffman celebrating their 50th wedding anniversary in style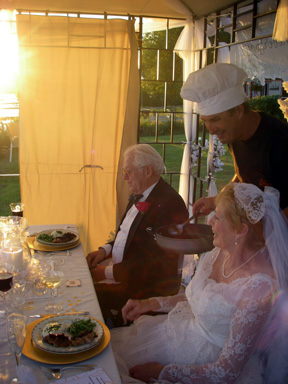 Paul in his official role as chef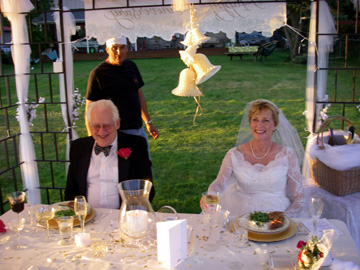 All smiles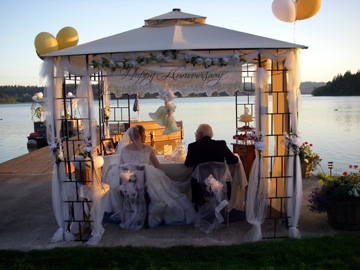 Erin's sister Kara worked hard to make the setting just right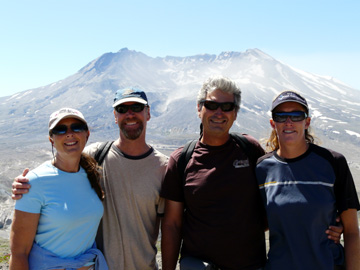 Harry's Ridge at Mt. St. Helens with Tony and Shannon of Sweetie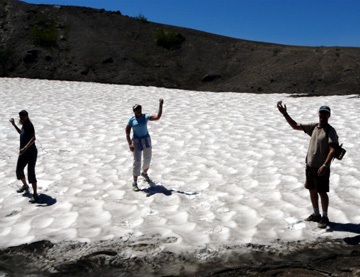 Snowballs in July!

Nude bicyclists are always a hit at the Fremont Solstice Parade in Seattle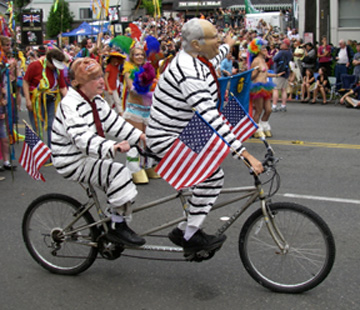 George W. unmasked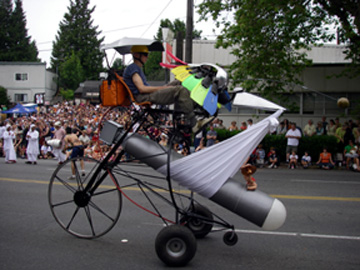 Biking and scuba interests combined

Arachnobike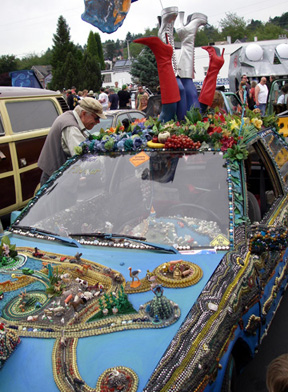 These boots are made for...crash protection?

This is how we should have painted our van...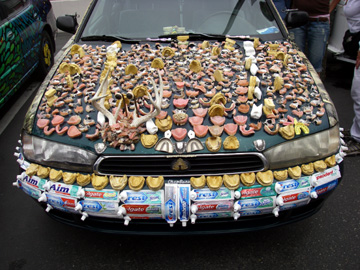 Dentomobile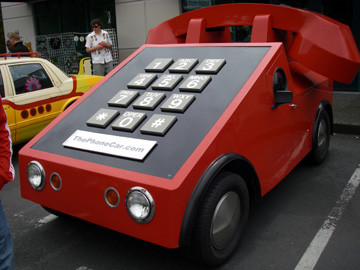 A truly mobile phone