We had a hard time leaving Coos Bay, Oregon. We had a great week there enjoying friendly people, a great library with Wifi, and possibly the nation's cheapest moorage at only $28 per week! Since it takes a couple hours to motor out of the estuary the town is located on, we left for the docks right at the entrance to Coos Bay the day before starting our passage to San Francisco. The public docks at the Charleston Marina are pretty gritty--lots of fishing boats, and people hanging around on the docks fishing and drinking beer from their lawn chairs. Lots of sea lions on the docks as well. A sixty-foot steel fishing boat pulled in next to us and would have crunched our hull if we hadn't happened to be on deck to stop it.

On June 5th we head back out to sea. The weather report calls for three days of good sailing to San Francisco. The first day, we see two gray whales taking a break at the surface 150 feet from the boat--a mother and calf. Later we pass through an area where thousands of Portugese Man of War jellyfish catch the wind with their gelatinous sails.

The wind starts to build the next morning, and with the wind comes the 8-10 foot swells we are SO tired of. Yet again the forecast turns out to be incorrect. We make it around Cape Mendocino, a Cape with a bad reputation, just before midnight under a beautiful moonlit sky.

We wanted to take a break from the swell at Noyo Harbor (Fort Bragg), but conditions aren't good for entering that port, so we continue south. That evening we struggle to keep the boat speed down. We need to arrive at the Golden Gate after sunrise and on a flood tide. During my "dog watch" from midnight to 3am, the stars are beautiful, though not stunning enough to keep me awake. For the first time, I fall asleep on watch. I'm sitting in the companionway, and start to fall forward into the boat. As Paul told me, you don't sleep long: a half a second is about all you get before your inner alarm says, "Falling—Wake up!"

The morning of the 8th Paul is disappointed to have to motor rather than dramatically sail under the Golden Gate Bridge, but there isn't any wind to speak of. Erin, joyous to be on flat water, gets to cavort on deck in San Francisco Bay taking photos.

We dock at Grand Marina in Alameda. We've now made it past two of the three troublesome capes on the West Coast. We have a great stay, visit Paul's family plus a friend, and get into the city one Sunday to puzzle over exhibits at the Museum of Modern Art and gorge on deliciously heavy Italian food at Sodini's in North Beach. Wonder how far south we'll make it on the next leg?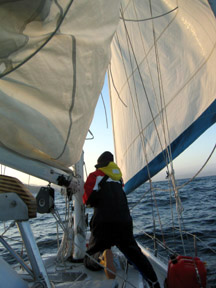 Raising the main in a vain attempt to sail into San Francisco Bay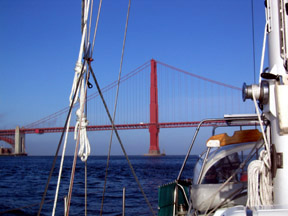 Just after passing under the Golden Gate Bridge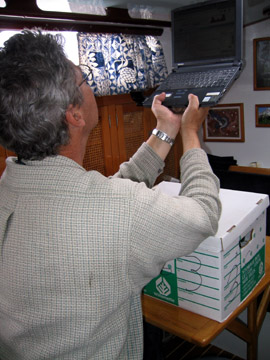 In many places if there is any Wifi at all, we have to hold the laptop in just the right position to keep the connection. This is why we appreciate a good library with Wifi!