Tahiti and Moorea

June - July 2009


Tahiti may no longer be the "island of love" described by horny 18th-century sailors who couldn't believe their luck, but we did see a woman sweeping her driveway topless. Impressive, considering that strict 19th-century missionaries not only covered the women in "Mother Hubbard" dresses, they even prohibited the wearing of flowers in their hair!

Ancient tribal law said citizens could not let a stranger pass in front of their house without extending an invitation. If you ask directions, you are likely to be escorted to your destination. Many people smile and say "Bonjour" or "ia ora na" (pronounced yorana) when passing in the street. "Ia ora na" translates closer to "let there be life" of "let your life be" than simply "hello", which is an insufficient greeting to a Polynesian. Even though Tahiti is the most populated island in French Polynesia, life here is pretty laid-back. Girls collect flowers from trees, and old women dressed in pareus and clunky plastic shoes sit in plastic chairs gossiping while small children play in the roots of banyan trees.

Erin enjoyed a refreshing swim in a pond below a waterfall (the highest of "Les Trois Cascades" on Tahiti). The sound at the base was deafening. Afterwards, tourists in their large air-conditioned buses were impressed by her soaked shorts.

This tiki on a reconstructed marae, a place of pre-missionary worship and important meetings, is at the Museum of Tahiti and the Islands. We also visited the Robert Wan Pearl Museum, where we learned the poor oysters have irritants surgically inserted in their gonads. But to encourage healing, the oysters receive post-surgery massages.


The capital city of Tahiti and all of French Polynesia is Papeete, which means "water basket", from back when the queen collected water at this spot. The crowded anchorages near town aren't good for swimming unless you like e-coli, but the convenience of the place sucked us in. A huge grocery store nearby kept us stocked in delicious government-subsidized baguettes, plus they had A/C and brie. Paradise! It was baguettes with jam for breakfast, sandwiches for lunch, and baguettes again with dinner. But let that crusty French bread age a day, and it will turn into chewy shoe leather. The enormous grapefruits that were free for the taking in the Gambiers cost $3 each here. The tempting selection of French cheeses and sausage was unfortunately not subsidized.
Point Venus lighthouse.

Early European explorers such as Captain Cook and Captain Bligh landed here, as well as some of the first missionaries.
| | |
| --- | --- |
| | |


At one anchorage near Papeete, 12-person outriggers would regularly scoot by our boat at sunset, the rowers making high "hy-ep" sounds to coordinate their strenuous paddling. Most of the paddlers are training for competitive events.




| | |
| --- | --- |
| | |

In a local church, the ladies' hats rival the beauty of the Tahitian hymns.

The hats are made of plant fibers, usually from dyed white pandanu leaves.




| | |
| --- | --- |
| The buses are sometimes infrequent, but we've had great success hitchhiking here, and often people went out of their way to drop us off closer to our destination. That's how we reached many hiking sites. We got rides from a vascular specialist, a judge, a French sailor, and a guy who claimed to have almost become Marlon Brando's grandson-in-law. We had doubts when he said he had to turn down tickets to Michael Jackson's funeral. | |
| The hike above the public garden Vaipahi was one of the best ten ever. | We followed the trail up a ridge along a wide, level path with pungent pine needles springing underfoot and views to the next ridgetop on either side. |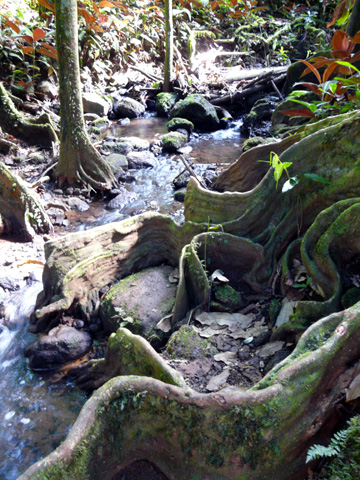 Our descent followed a stream lined with mapes (a type of chestnut tree) whose ridge-like roots stretched right across the water. At least every hundred feet there was a waterfall, and here and there rays of sunlight pierced the thick leaf cover to alight on glistening spider webs. Birds claimed their territories from the tree branches high overhead.


We had a wonderful week at Moorea, which means "yellow lizard".
One of these peaks is pictured on a number of French Polynesian coins, but not the lizard.
| | |
| --- | --- |
| If this scene looks familiar, it's because it's been featured in many movies, including King Kong. While anchored here, we didn't see Jessica Lange or any mutant gorillas. | |
| | |
| --- | --- |
| Paul stayed in the dinghy... | ...while Erin went looking for sharks |
| She found a turtle | And a little shark too |

On a hike across Moorea, the trunks of mape trees reached out to us with their paper-thin arms, doves hooted in the trees, and the cloying scent of tiare hung in the air, almost disguising the smell of sweaty hikers.
| | |
| --- | --- |
| A forest of mape: Tahitians eat the chestnuts from these trees after boiling them for 2 hours. They're sold by street vendors as mape chaud. | We'd just returned to the boat after this hike when we were boarded by seven customs officials wanting to ask a few questions (no, we do not have firearms or drugs on board). Ten minutes later, and they would have been treated to the sight of a bare cruiser butt taking a cockpit shower! |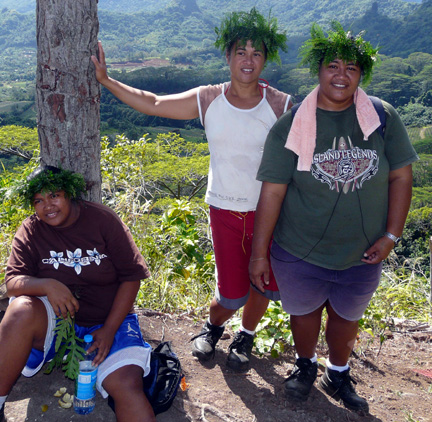 A group of fern-crowned young female agricultural students working on the trail gave Erin a fern crown and a plate made of leaves. They pointed out the uses of some of the surrounding plants, such as the leaves of the fara (pointe d'anus in French--don't ask) for making roofs for huts, and the shapely round leaves of another plant for making skirts for dancing.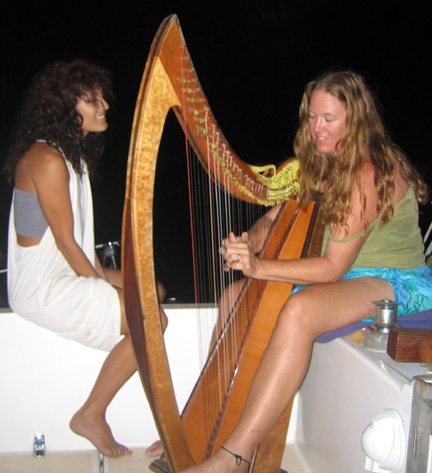 One night we were treated to an outdoor concert on Hipnautical, wonderful musicians we met in Mexico. The last time we got to hear Bobbie Jo's harp was under a full Baja moon a year ago.
| | |
| --- | --- |
| Bruce and Marianne on Gallivant, friends we've been fortunate to run into in Mexico, the Galapagos, and now Moorea | Roger singing and playing his original cruising songs on Hipnautical |