We leave the 14th of June to head south once again. That first day is the best sailing day we've had yet-—gorgeous weather, good wind even in the bay, which is unusual in the morning hours. We pass Alcatraz under full sail and tack out underneath the Golden Gate, sharing the limited space with a large freighter. When we turn down the South Channel we get to relax in the cockpit watching the beautiful coastline go by and spotting a few dolphins-—this is the way cruising is supposed to be!

As the names of the birds and vegetation we see change, so does the amount of clothing we wear. Nobody's naked yet, but sitting around the boat we're usually barefoot now, whereas all winter in Seattle and during these passages we've sported heavy socks and either sea boots or down slippers. Twice at sea I wear only long underwear under my foul weather gear, ignoring the usual layer of fleece pants over the long johns. A couple times I ditch my fleece hat as well--things are looking up! But it's still cold, especially during night watches. Then we add a balaclava (like a face mask) to the fashion statement.

The sun rises as we pass Big Sur on the 15th, and the winds kick back up and bring along that nasty swell again. The forecast includes a gale warning and 14-foot seas. We're REALLY tired of this violent motion that has been with us all the way down the coast and leads to major sleep deprivation, so this time we head in after only one night at sea. We arrive at Morro Bay, California, just after sunset. Morro Rock just outside the entrance is visible for miles out at sea, when it's not enshrouded in the area's pervasive fog. Since they don't know us, we are allowed to stay at the Morro Bay Yacht Club.

There is a greater variety of large birds than we've seen anywhere else--great egrets, yellow-crowned night herons, great blue herons, pelicans, and the ubiquitous and smelly cormorants. They nest in nearby trees and emit Donald Duck-like squawks. Their roosting areas are encrusted with guano, and walking nearby entails getting splattered, as we found when trying to photograph the birds. The estuary looked like free swim hour at an urban public pool, with all those bird species diving for fish to feed their young.

I finally realize after over a day that the lump of kelp streaming from a mooring buoy 150 feet from the boat that seemed to move occasionally contained a sea otter. It rests and grooms in the kelp and keeps a piece of it across its stomach like a blanket.

The acrid desert scent of sage and creosote bushes contrasts strangely with the dense and chilling morning fog. Then there's the strong odor of guano from the bird refuge. The fog horn emits its soulful bass "Ommmm" every 30 seconds all day and all night long. The vegetation has changed completely—-no more roses, but lots of ice plant and succulents, beautiful colorful desert flowers everywhere. I find two pairs of sandals for $1.00 at a yard sale. We break the budget over food and boat parts, not clothes!

June 19th we depart Morro Bay to round the dreaded Point Conception, location of greatly intensified winds and large swells coming from different directions, and continue south for ten days anchored out in the Channel Islands.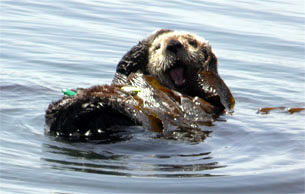 Our sea otter neighbor tired after a long day's work grooming under his kelp blanket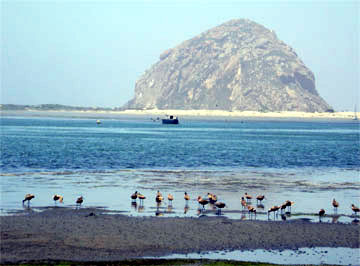 Morro Rock in Morro Bay, California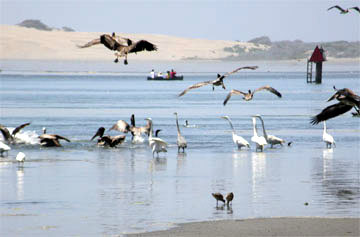 Free-for-all fish buffet in the estuary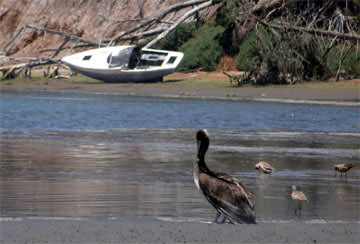 We hope this doesn't happen to our boat