Heading South

November 2012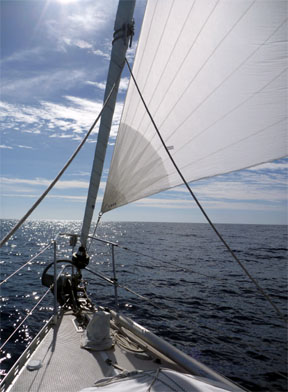 Southbound under spinnaker
In choosing to live on the sea, we subject ourselves to the whims of Mother Nature. We must learn to read her mood swings and use them to our advantage so that we may be propelled forward in our direction of choice. It is an art that, if not mastered, can leave us floundering in the rages of the ocean.

When deciding on the optimal time to begin our 1400 mile migration from San Diego to Zihuatanejo, Mexico, there were two things that we needed to take into account: hurricane season in the south and the cold fronts coming from the north.

The Northwestern Pacific hurricane season generally lasts from May until October, during which time heavy storms brew off the coasts of Central America and southern Mexico. They then either make their way west towards Hawaii, or north to wreak havoc on the coastal cities in Mexico. Because we donít generally enjoy having havoc wreaked upon us, we decided to wait until the hurricane season was definitely over before making our way into its old stomping grounds.

However, being that we live on a sailboat, we also needed some wind to get us there. We had hoped that this would be provided to us by one of the cold fronts that make their way down the west coast from Alaska all winter long.
On the morning of November 10th we were ready to go. The last hurricane had spun out toward Hawaii, a frontal passage was on its way through, promising us good winds for the first few days, and there was a second cold front on the forecast. Our friends had seen us off at a great dock party and the list of things to do, though never empty, was at a point where we could leave with confidence. We slipped off the dock lines and set sail to Mexico.

For the first few days we were in winds gusting from 25 to 35 knots and seas between 8 and 10 feet high. It made for a fast, if somewhat bumpy start to the trip. MaryJo had some problems with seasickness, but stood all her watches, and by the second morning she popped up with a smile and a big appetite. By day three, the wind became much lighter and all was well onboard.
The next couple of days gave us just enough wind to keep the boat moving. Because it was blowing from directly behind us (not the best point of sail) we shifted a few degrees off course and switched between having the spinnaker up and having the genoa held out with the spinnaker pole. This gave us the most amount of sail area possible and allowed us to make use of every last little breeze.

Eventually the wind machine just shut down, and though the Romany Star is a great sailboat, she doesnít do nearly as well as a motorboat. At our best fuel economy setting, we make about 4 knots and have a range of a little over 500 miles. But with a thousand miles to go to our planned destination, it was not possible to crank up the motor and meet any sort of schedule.

Despite working really hard to catch as much non-existent wind as possible, we still found ourselves bobbing. We could even see the second cold front on our tail, but it was taking its sweet time catching up with us. We started motoring through the nights, which not only got us moving again, but also allowed for a much nicer sleep for the off-watch.

Lights on for nighttime sail changes drew a bucket of squid that were stepped and sat on and made a mess. A few were found on deck for days drying in the sun.
Around this time, we crossed over the Tropic of Cancer and it started getting Hot! The cabin temperatures were climbing into the 80ís during the day and only a few degrees cooler at night. The piles of fleece and layers of cold weather clothing lay around looking silly as the fans came on to make sleeping a bit more comfortable.

Since we were traveling along the route from the Panam Canal to the West Coast of the US there was plenty of traffic to watch out for. The AIS system kept us aware of just how many of the huge ships were out there.

On the 19th, the frontal passage finally overtook us and we spent the next couple of days going 5 to 6 knots.

On day eleven we really got moving and managed to make 130 miles towards our goal without burning anymore dead dinosaurs! It was great to hear the hiss of the bubbles from the bow wake along the hull while dropping off to sleep.

But alas, all good things must come to an end, and the next day brought an end to the sailing. We turned on the motor and didnít turn it off for 21 hours.
| | |
| --- | --- |
| Thanksgiving day, the wind was so absent that Paul jumped overboard, using his need to check the state of the hull and prop as an excuse to escape the heat. With the forecast maintaining a complete lack of wind and Zihuatanejo remaining 250 miles away (two days of non-stop motoring), we decided to change our plans and make for Manzanillo instead. That evening, we feasted on pasta with red sauce and shrimp, MaryJo indulged in her last bottle of Nesquik, and we celebrated our prospective landfall the next morning. | |
The morning of the 23rd we crossed into Mexico's territorial waters and hoisted the flag we will fly throughout our stay.
About noon we dropped anchor in front of the Las Hadas Resort in Manzanillo. It is a beautiful backdrop for our first month of visiting Mexico, and will give us a fun place to go ashore and relax.

Our first offshore passage together taught us a few things, and reaffirmed that MaryJo wants to continue her exploration of the cruising life. The boat did well, but as usual that project list grew while out sailing. The skipper has a smile on his face and is happy to be back in the life he loves.
MaryJo's Sun and Moon Gallery